About Special Collections
Staff
Department Head and University Archivist
701.777.4626

Chester Fritz Library Room 434




Grand Forks, ND 58202-9000
701.777.4624

Chester Fritz Library Room 435a




Grand Forks, ND 58202-9000
701.777.4627

Chester Fritz Library Room 435b




Grand Forks, ND 58202-9000
Policies
Collection Development and Management Guidelines
Rare and Special Materials Collection Policy
Elwyn B. Robinson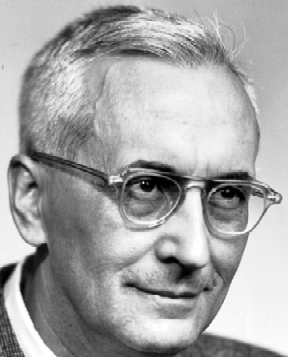 Dr. Elwyn B. Robinson (1905-1985), University Professor Emeritus of History at the University of North Dakota and a noted historian of North Dakota, was born on October 13, 1905, on a farm near South Russell, Ohio. He was one of three sons of Walter P. and Mabel L. Robinson. In 1915 the family moved to Chagrin Falls, Ohio, where Elwyn's father went into business as a professional photographer. Growing up in the small Ohio town, Elwyn played tennis and chess, the latter becoming a life-long hobby. Respected by his peers, he was president of his senior class in high school, from which he graduated in 1924. That fall he enrolled in Oberlin College, majored in English, and graduated after four years with an A.B. degree.
During 1928-1930, he taught in a consolidated township school at New Lyme, Ohio. His teaching activities spanned a variety of subjects including Latin, World History, Agriculture, Biology, General Science, and Problems of Democracy. As the only male teacher he held the title of principal. He also coached baseball and basketball. While being particularly fond of basketball, it was his baseball team that won the county Class C tournament in 1930.
A more significant aspect of his years at New Lyme was his friendship with Eva S. Foster, another teacher at the school and a daughter of the Reverend George I. and Annie D. Foster. Mr. Foster was rector of the Church of the Good Shepherd (Episcopal) in Cleveland. Elwyn and Eva became engaged in the spring of 1930.
After his initial teaching experience, Robinson decided to return to graduate school and enrolled at Western Reserve University in Cleveland in February 1931. He specialized in American history, which he studied under the direction of Dr. Arthur C. Cole. It was at this time that Robinson learned how to conduct historical research, for him an enjoyable process that he likened to being a "historical detective". He earned the M.A. degree in 1932 and the Ph.D. in 1936, the latter with a dissertation on "The Public Press of Philadelphia during the Civil War". During his time at Western Reserve, Robinson became an ardent Democrat. He supported Roosevelt and developed a keen interest in the social problems of American society. Privately he labeled himself a "radical".
In the late summer of 1935, with his dissertation almost complete, Robinson was offered a teaching post at the University of North Dakota by Dr. Orin G. Libby, chairman of the Department of American History. On the same day that he left for North Dakota, he and Eva Foster were married. It was September 2, 1935. Robinson was fond of describing these exciting events, as he did for the Dakota Student in 1973: "We were married in the morning, I believe it was Labor Day. Our families took us down to the bus station that same day to leave for North Dakota. Eva and I always say it's still going on - our honeymoon in Grand Forks. And I can still remember our first impression of Grand Forks. We looked out the window and said, 'I think we're going to like it here'". Their first home was a small apartment on Cambridge Street.
Robinson's early years at the University were marked by poor health and financial struggle, the latter occasioned in part by the depression and its aftermath. In 1945, at age 40, he began to pursue an interest in the history of his adopted state, an interest that was to ultimately lead to his greatest scholarly contributions. At about this time he began to teach a course on the history of the western frontier.
Between 1947 and 1949 he wrote and presented a series of radio talks entitled the "Heroes of Dakota". Twenty such talks were delivered over the University's station, KFJM, during the 1947-48 year. As these talks met with great success, twenty more were presented in 1948-49. Soon the series was heard on commercial radio throughout the state and printed in two volumes by the University press. The intent of these talks was conveyed by Robinson's conclusion to one of them: "Perhaps this bit of our state history will nourish in our hearts more affection for our western country. To love North Dakota is good for us, and our loyalty is good for the state."
During the late 1940's, Robinson became determined to write a comprehensive history of the state. Indeed, his early work on the project was already in progress. In 1950 he began to teach a course on the history of the state, a course that was to achieve great popularity. However, the single most significant event influencing the writing of the book was a public address delivered by Robinson at the 75th Anniversary Convocation of UND, on November 6, 1958. The speech was entitled "The Themes of North Dakota History." The address received statewide publicity and was distributed widely in printed form. A revised version was published in North Dakota History (Vol. 26, Winter 1959, pages 5-24), the quarterly publication of the State Historical Society. The themes of the state's history, thus enunciated by Robinson, became the central thesis of his eventual book. As described later by his history colleague and close personal friend, Prof. Robert Wilkins, "The shape of the projected book and its great distinction grew out of the outstanding public lecture."
Robinson identified six themes of North Dakota history: remoteness, dependence, radicalism, economic disadvantage, the "too-much mistake", and adjustment. Remoteness meant that the state was significantly influenced by its great separation in distance from the nation's chief centers of activity. Dependence indicated the state's status as a colonial province of the chief centers. Radicalism became the means by which North Dakotans combated this colonial exploitation, an example being the creation of the Nonpartisan League in 1915. The fourth theme, economic disadvantage, resulted from the state's sub-humid climate and the predominance of agriculture in the state's economy. The "too-much mistake" concerned the too rapid growth that was characteristic of the state's early history. North Dakota had too much of too many things too soon. The final theme, adjustment, describes the state's moving-back from the too-much mistake.
Robinson's efforts in writing the state's history were facilitated by the University's new president, George Starcher, who assumed office in 1954. Starcher took a personal interest in the project and supported a reduced teaching load for the author during a two year period. Finally, in the fall of 1966, Robinson's 600-page book, History of North Dakota, was published by the University of Nebraska Press. Dealing with all aspects of North Dakota life from earliest times to about 1960, it was praised by reviewers and recognized by historians as one of the better state histories. It received the Award of Merit of the American Association for State and Local History, and it won for Robinson the respect of people all over the state.
Over the years, Robinson's efforts in teaching and research came to be widely recognized in the University community and around the state. In 1959 he received the Alumni Distinguished Teaching Award, being one of its first four recipients. He was promoted to the special rank of University Professor in 1967. In May 1984 he received the Distinguished Service Award of the University's Alumni Association.
After his retirement in 1970, Robinson was active in a variety of writing projects, producing articles for the Encyclopædia Britannica on the Great Plains and North Dakota (1974), a forty-page article on "The Starcher Years: The University of North Dakota, 1954-1971" (North Dakota Quarterly, 1971), an article on "An Interpretation of the History of the Great Plains" (North Dakota History, 1974), and a report to the North Dakota Heritage Commission on "An Interpretive Plan for a Heritage Center" (1973). His final publication was a 18-page biographical memorial to his wife, Eva, who had preceded him in death in February 1984. It was published privately in Grand Forks, in October 1984. In his retirement a collection of Essays on Western History in Honor of Elwyn B. Robinson (Robert P. Wilkins, editor, University of North Dakota Press, 1970) was prepared by a group of his former students. Elwyn Burns Robinson died on March 24, 1985.
Always outgoing and gregarious, appreciated for his cheerful spirit, and remembered for his infectious laughter, Dr. Robinson was a popular member of the University and town communities. He served in various lay capacities at St. Paul's Episcopal Church, and on the Board of Directors of Grand Forks Homes, a non-profit corporation which constructed low-cost housing for the elderly. Throughout his life he enjoyed several hobbies, most notably photography and chess, and was an avid follower of sports, politics, and world affairs.
Elwyn B. Robinson's History of North Dakota
Elwyn Robinson's sweeping History of North Dakota has become a classic in American state histories. One of the state's great professors and historians takes into account not only politics, but sociology, economics, ethnology, theology, nature studies and geography to describe North Dakota to the world and to itself.
The digital, open edition of History of North Dakota was made possible by the generous contributions of the Northern Plains Heritage Foundation, the North Dakota legislature, the North Dakota University System, and the family of Elwyn B. Robinson.